Is the V-RAY the brightest headlight you will ever need?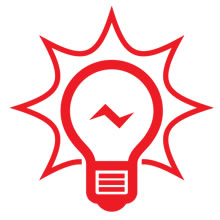 You probably know the story. Fiber optic surgical lights were the latest and greatest. They provided a beam of powerful light with no shadows. Even the term"fiber optics" continues to sound high-tech.
However, they were far from perfect. First being tethered to a light unit is not much of a problem, until you stand up and take a few steps. Plus, the investment you had to commit to if you decided have a light box for each of your operatory rooms.
Many dental headlight users experienced problems when they rolled over the fiber optic cable with their chair. Other users found that the light box likes to eat $150 light bulbs on a regular basis.
Although common for over 30 years, LED technology has continued made some amazing progress. LEDs were just initially used as small indicator lights on your child's toy, or something to help you find your key in a dark entryway.
During the past decade the first dental and surgical LED headlights entered the market that could even compete with fiber optic lights. Their greatest benefit is that they are completely portable & shadow-free (no box to hold you back – just a small battery pack).
They are solid state devices (rather than a bulb) with a life of approximately 50,000 hours. If you work 60 hours per week x 50 weeks per year that would equal 3,000 hours, so 50,000 hours is around 16 years in the future. So, the maintenance problem was solved.
Plus, the advanced LED designs puts out a light with a pure white color, not with the blue-tinge common with the fiber optic lights.
The Original FireFly LED Headlight from SheerVision was one of the front-running designs when released. It offered all of the advantages of LED lights as I noted at a price just under $700. The only downside was that some users asked for a little more intensity from the light.
So when launch of the Infinity Ultra LED Headlight in 2007, it was the first portable loupe light for surgeons, dentists, and veterinarians that removed all of the limitations inherent in previous headlight designs. 
Then, with the launch of the V-RAY in 2012, the world was changed for every with its bright-white beam, and extremely uniform beam pattern.

Brightness / Intensity (foot candles): 
V-RAY 9,000+/ Fiber Optic 3,000-4,000 / Other LED 2,000-5,000 
Note the edge-to-edge consistency and uniformity of the beam produced by the V- RAY versus competing loupe lights.
The team at SheerVision has been working hard to demonstrate the benefits to all of this LED technology while many of our competitors appear to be dependent upon the sales of expensive boxes, cords, and bulbs. Just as flat screen TVs have zoomed past tube based screens, so to will LED technology advance.
SheerVision customers will be of the first to benefit from this technology. With a price of only $745, the V-RAY hasn't been beat. It attaches to most brands of surgical loupes or to a headband or to a safety frame. Plus a 30-day trial period gives you the chance to give it a good test run before making a final commitment. However, most everyone who has purchased one wonders how they worked without it.
Will the V-RAY  be the last dental headlight or surgical headlight you will ever buy? With its inherent advantages I believe it could very well be, but with technology changing so rapidly, who knows what the future will bring in the next 5-10 years?
If you would like additional information on the V-RAY our our Ultra-Mini super-lightweight headlight designs please contact our customer service team by phone, email, or chat - or visit this link:
https://www.sheervision.com/collections/headlights
Keep shining!
Martin Chaput
SheerVision Loupes & Headlights
US/Canada Toll Free: (877) 678-4274
International: +1 310 265 8918
customerservice@sheervision.com
www.sheervision.com